Doja Cat and Noah Schnapp are famous Americans. Doja Cat is a well-known singer and rapper, and Schnapp is a well-known actor best known for playing Will in Stranger Things.
Both of them are very accomplished people who have gotten a lot of love and attention from people all over the world. Until something bad happened, the two famous people had a pretty good relationship.
Here, we'll look into what exactly happened between them. But let's start by talking briefly about each one.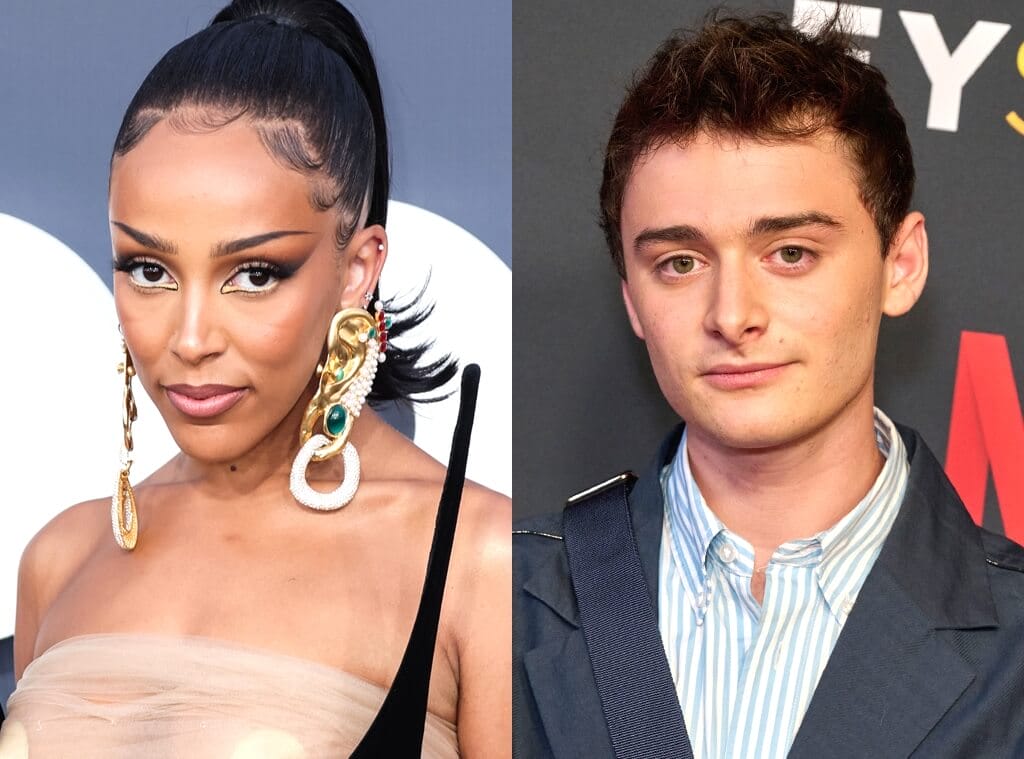 Doja Cat's Biography
Doja Cat is a well-known rapper, singer, and composer from the United States.
She was born on 21 October 1995 in Tarzana, Los Angeles, California, in the United States.
Her mother is Deborah Elizabeth Sawyer, and her father is Dumisani Dlamini. From a very young age, the vocalist has had a strong interest in singing. As of 2022, she is just twenty-seven years old, yet her achievements are monumental.
Noah Schnapp's Biography
Schnapp was born on October 3, 2004, in Scarsdale, New York, United States of America. Noah Schnapp is an American actor who rose to prominence as a result of his outstanding performance on Stranger Things, which brought him enormous acclaim at a very young age.
The actor's parents are Karine Schnapp and Mitchell Schnapp, and he has a twin sister named Chole Schnapp. He is only seventeen years old as of 2022 and will shortly turn eighteen.
Also Read: Britney Spears And Kevin Federline Divorced For What Reason?
Schnapp's untainted skill has allowed him to establish milestones at such a young age. He is well renowned for the kindness and innocence he displays both on and off-screen. This time, though, many have labeled him immature for his latest actions.
What Is the Issue Between Noah Schnapp and Doja Cat?
It is extremely common for individuals to have a crush on someone. Singer attempted to have a dialogue with Joseph Quinn but was unable to do so over social media. Later, she sent a text message to Noah Schnapp asking for assistance in reaching Joseph. In response, Noah sent her Joseph's social media accounts. The actor requested that she make contact on his own.
He found this rather amusing, so he posted the screenshot between him and Doja to his social media account. His post went viral across multiple social media channels. The seventeen-year-old shared it thinking it was of little consequence, but it became viral. Doja during her live broadcast referred to Schnapp as an st**** youngster and more.
Schnapp deleted his article immediately after receiving an outraged response from the general public. However, Quinn has not responded to this as of yet.
When Did Noah Schnapp Publish Doja Cat's Conversation?
Discussing the private conversation that was released owing to Noah Schnapp, which is also the most discussed topic in the media today. On his social media accounts, the actor shared a screenshot of their discussion.
On July 6, the actor uploaded a screenshot on his TikTok account in which Cat requests him to link her to Joseph Quinn. The post was subsequently read by a large audience and received several comments, both for and against.
However, Cat was later consulted about the subject. Initially, she referred to him as immature, but she eventually calmed the situation and begged people to refrain from hurling hatred at any of the parties.
Noah Schnapp, Have you removed the Post?
Noah Schnapp deleted the TikTok post as a result of the numerous negative comments and the singer's displeasure with his response. His motives were not malicious, but he did invade their privacy. This could possibly be the reason why the meat settled a bit too quickly.

Following their recent altercation, both the musician and the actor have received a great deal of attention. Who do you believe is responsible? Well, for the time being, people have agents on both sides, so a decision cannot be formed so quickly.