Paul Hogan is a well-known actor who was born in Australia on October 8, 1939. The 1986 release of the first Crocodile Dundee film awarded him the Golden Globe for Best Actor in a Motion Picture Musical or Comedy. you will find everything about his Net Worth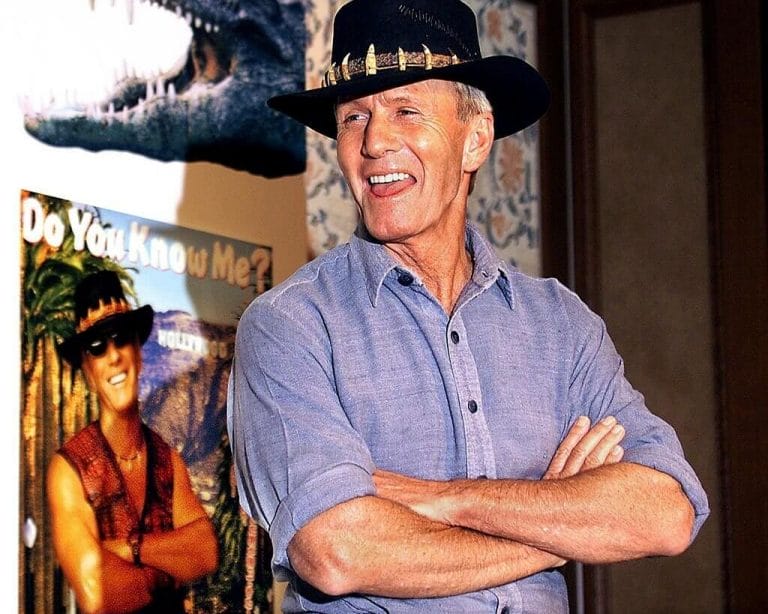 What is Paul Hogan's net worth?
Paul Hogan is a well-known comedian and actor from Australia who is estimated to have a net worth of $20 million. Hogan is perhaps best recognized for his role as "Crocodile Dundee" in the film Crocodile Dundee (1986) and its several sequels. Unfortunately, Hogan's net worth has suffered a major fall in recent years as a result of a nasty divorce and a protracted struggle with the Australian Taxation Office, both of which will be detailed later on in this article. At its peak, Hogan's net worth was greater than $75 million.
| | |
| --- | --- |
| Net Worth: | $20 Million |
| Date of Birth: | Oct 8, 1939 (82 years old) |
| Gender: | Male |
| Height: | 5 ft 8 in (1.75 m) |
| Profession: | Actor, Film Producer, Comedian, Screenwriter |
| Nationality: | Australia |
Early Life
Paul Hogan was born on October 8, 1939, in Sydney, Australia. In an effort to appear more intriguing, he has on occasion claimed to have been born in Lightning Ridge, a small Australian outback town. As a teenager, he began working as a rigger on the Sydney Harbor Bridge, where he had grown up. Before entering show business, he maintained a level of secrecy over many aspects of his work.
Paul Hogan Career
In 1971, he made his television debut on the Australian talent show "New Faces," which aired before the well-known English program of the same name. Hogan, who was allowed on the show under the cover of a tap-dancing knife thrower, made several jokes about the judges throughout his time there.
The audience enjoyed his unexpected and unusual performance, and he was invited back to perform again despite the fact that he just danced briefly and threw the knives to the ground at the end. Mike Willesee, the anchor of the Australian news magazine program "A Current Affair," was pleased by his inventiveness and humorous ability. Willesee asked Hogan if he was interested in taking brief comedic roles on his show, and Hogan agreed. John Cornell, the show's producer, later became his manager and business partner.
Also Read: Who Is Billy Zane? Know Billy Zane's Net Worth!
Relationship and Affair of Paul Hogan
Hogan and his first wife, Noelene Edwards, were wed from 1958 to 1981. They remarried after a year and divorced a second time in 1986. Reportedly, this second divorce was one of the most costly and contentious in Australian history. Hogan was married to his co-star from Crocodile Dundee, Linda Kozlowski, from 1990 to 2014.
Real Estate
Paul and Linda purchased a home in Malibu, California, for the price of $3.8 million in July of 2012. One year later, they parted ways with the property and sold it to fellow Australian superstar Chris Hemsworth.
FAQ
Which city is Paul Hogan's birthplace?
Australia's Lightning Ridge is the birthplace of Paul Hogan.
What is Paul Hogan's exact age?
Age of Paul Hogan, Am is 83 years old.
What day is Paul Hogan's birthday?
Paul Hogan was born on October 8th, 1939.
What is the profession of Paul Hogan?
He is an Australian comedian, actor, author, and TV host.
What does Paul Hogan's height measure?