The cast of Mom Season 8 Mom is an American comedy television program that is presently airing on CBS. The show is currently in the midst of its eighth and final season, and a lot of people are interested in finding out who will be in the cast of Mom Season 8. In light of this, let's take a look at the cast of Mom season 8 and identify the principal actors and actresses in the series.
Mom Season 8
Chuck Lorre, Eddie Gorodetsky, and Gemma Baker are the brains behind the American television comedy series Mom, which ran on CBS from September 23, 2013, to May 13, 2021, and consisted of a total of eight seasons.
It follows Christy and Bonnie Plunkett, a dysfunctional mother and daughter duo who, after being apart for years while both suffered from addiction, attempt to pull their lives and their relationship back together by attending Alcoholics Anonymous and becoming sober.
Mom's final season began on CBS on November 5, 2020. Chuck Lorre Productions and Warner Bros. Television produce the season, with Chuck Lorre, Eddie Gorodetsky, and Gemma Baker as executive producers. Anna Faris isn't in this season.
Mom Season 8 Cast
| Cast | Character |
| --- | --- |
| Beth Hall | Wendy Harris |
| Kristen Johnston | Tammy Diffendorf |
| Jaime Pressly | Jill Kendall |
| Allison Janney | Bonnie Plunkett |
| Mimi Kennedy | Marjorie Armstrong-Perugian |
| William Fichtner | Adam Janikowski |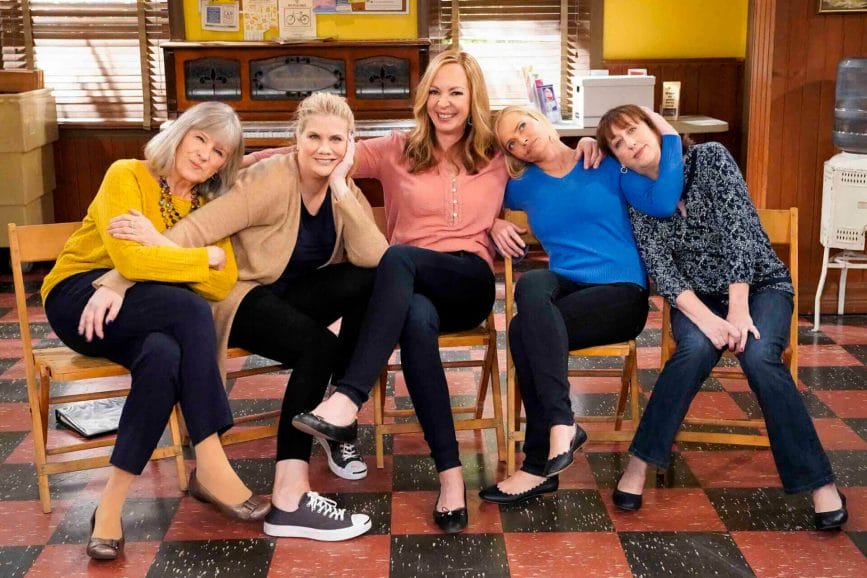 Beth Hall: Wendy Harris
Beth Hall plays Wendy Harris. Bonnie affectionately refers to Wendy as "Weeping Wendy" because of her penchant for tearing up in public. Her role as Wendy Harris on the CBS sitcom Mom made her a household name.
She also appeared on a number of other shows, including Mad Men, Murphy Brown, Frasier, House, and Parks and Recreation, where she played recurring parts.
Kristen Johnston: Tammy Diffendorf
Actress Kristen Johnston portrays Tammy in the film. On Mom, Tammy Diffendorf is a regular cast member and Bonnie's ex-sister.
Kristen Angela Johnston is an American actress who was born in New York City. As Sally Solomon in 3rd Rock from the Sun, she was nominated for two Outstanding Supporting Actress nominations in a Comedy Series awards for her work.
On The Exes, she played divorce lawyer Holly Franklin, and on Mom, she played drug addict Tammy Diffendorf.
Jaime Pressly: Jill Kendall
Jaime Elizabeth Pressly is an American actress, fashion designer, and model, as well as the founder and creative director of Pressly Couture.
Jamie Pressly is the actress that portrays Jill Kendall. It's no secret that Christy Plunkett is a big fan of her, having supported her since Season 2.
As Joy Turner in the NBC comedy My Name Is Earl, she won a Primetime Emmy Award for Outstanding Supporting Actress in a Comedy Series and was nominated for two Golden Globes and one Screen Actors Guild Award.
Allison Janney: Bonnie Plunkett
American actress Allison Brooks' Janney has a devoted following in Hollywood. In a career spanning three decades, she is known for her versatility in a wide range of genres on television and on stage.
The character of Bonnie Plunkett is played by Allison Janney, who also portrays Christy's mother, Violet's grandmother, and Roscoe's great-grandmother.
Additionally, Janney has been nominated for seven Primetime Emmy Awards, an Academy Award, a British Academy Award, a Golden Globe Award, and two Tony nominations.
Mimi Kennedy: Marjorie Armstrong-Perugian
One of the most experienced members of the group, Majorie Armstrong-Perugian, is played by Mimi Kennedy.
Amerikan actor and activist "Mimi" Kennedy is also a novelist and novelist-turned-novelist Sitcoms are the medium of choice for Kennedy.
Previously, she appeared in a series of short-lived sitcoms before landing the role of Ruth Sloan on Homefront (1991–93). When Chuck Lorre's Dharma and Greg (1997-2002) and Mom were released, she was shot to stardom (2013–2021).
William Fichtner: Adam Janikowski
William Fichtner portrays the role of Adam. Adam Janikowski has been Mom's primary character since Season 4, and he was a guest character in Season 3.
He is Bonnie Plunkett's spouse. William Edward Fichtner is a famous American actor. He is most known for his roles in Invasion, Prison Break, Crossing Lines, and Mom.
He has appeared in a number of films, including Heat, Contact, Armageddon, The Perfect Storm, Go, Crash, Black Hawk Down, and Teenage Mutant Ninja Turtles.
Mom Season 8 Plot
Adjusting to life without her daughter and former roommate Christy is a challenge that Bonnie (Allison Janney) must overcome.
She puts her wild past and a suddenly empty nest behind her and focuses on her marriage to Adam (played by William Fichtner) and on figuring out what she wants to be now that she has finally grown up.
The assistance of Bonnie's friends, such as the sage Marjorie (played by Mimi Kennedy), the wealthy but often naive Jill (played by Jaime Pressly), the overly emotional Wendy (played by Beth Hall), and Bonnie's loudmouthed but kind former foster sister, Tammy, is more important than ever at this point (Kristen Johnston).
They support one another and fight together to overcome their flaws and maintain their sobriety no matter what challenges life presents them with. In general, the episodes are given titles that include two peculiar subjects that are discussed in that particular episode.
Also Read: Who Is May Calamawy's Layla?
Mom Official Trailer
Mom Season 8 Cast – FAQs
Who is Christy's Mom boyfriend?
Mom Christy marries Victor Perugian.
Is Jill pregnant?
Jill miscarries in Season 4 after becoming pregnant. Her friends are supportive and help her recover. Jill becomes a foster mother after a while.
Why did Anna Faris leave Mom?
Faris left for new opportunities.