Lauren Bushnell Lane recently announced she is expecting her second child. Lauren and her husband, country music musician Chris Lane, are thrilled about having a new child. She also disclosed an issue she is experiencing that is merely driving them to check on the infant more frequently. Now, she's sharing another big pregnancy-related news with her fans.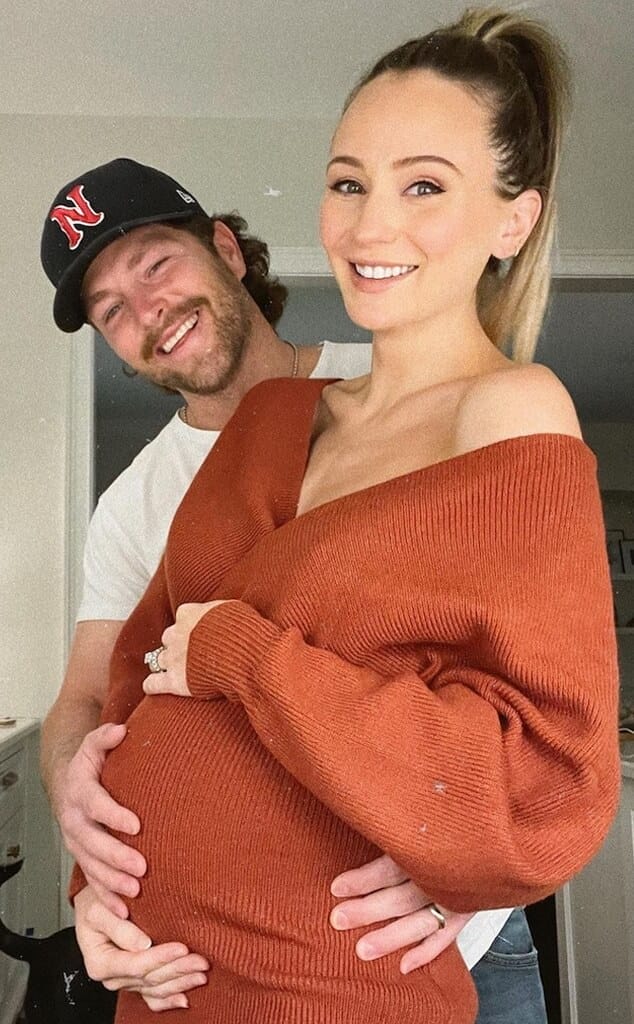 Lauren Bushnell Lane reveals a second unexpected pregnancy
Lauren Bushnell Lane's second pregnancy has been rather eventful. She initially stated that this pregnancy was a huge shock. She and Chris Lane did not anticipate having a child so soon. Nonetheless, they are enthusiastic about their latest edition.
Early in the month of June, Lauren disclosed that she had been diagnosed with marginal cord insertion. She defined it as "when the umbilical cord attaches to the periphery of the placenta as opposed to the middle."
She also stated that it is not that uncommon and that she only has to get an ultrasound every four weeks to ensure that the baby is developing OK.
Now, Lauren has discovered another pregnancy-related surprise. Lauren utilized Instagram to announce the news. She posted a photo of herself with the caption, "Tell me it's your second child without informing me." Lauren then revealed that she had the wrong due date all along. During a recent visit, the doctor verified her due date.
When will the new date be? Lauren disclosed that her revised due date is October 25.
Also Read: The Truth About Tana Ramsay, Who Is Married To Gordon Ramsay!
They weren't expecting a second child before Dutton turned one.
When Lauren made the discovery, she and Chris weren't even attempting to have a second child at the time. The former star of reality television reflected, "To tell you the truth, I don't think I've ever been more astonished in my entire life, because this was a very unexpected surprise." In point of fact, the news came as such a shock to her that she had to wake Dutton up from his slumber in order to tell her country music star husband that he was going to be a father once more.
Currently, Lauren is in her second trimester.
She may not have had many symptoms at first, but they soon appeared, and she stated that she battled a bit before finding this new sweet spot.
She explained, "Now I'm actually at the point where I can feel normal again." Then, in approximately four months, I'm sure I'll be officially uncomfortable again, so I'm going to try to enjoy the following few months.
Does she know what the gender of the baby will be?
Lauren took to Instagram to poll her followers on the gender of their second child to be and asked them whether they believed she would have another son or a daughter. To this point, Lauren and Chris have not disclosed the gender of their upcoming child. Nevertheless, she did mention that they would learn the truth in a relatively short amount of time. So it's possible that they are aware but are just waiting for the right moment to break the news to the audience.
As soon as Lauren got past the beginning of her pregnancy, which caused her a lot of sicknesses, she started feeling much better. Chris did admit at one point that she was forced to go to the hospital in order to receive some fluids since she was ill. She also has marginal cord insertion, but she is keeping a positive attitude and has asked her supporters to pray for her.
| | |
| --- | --- |
| Real Name | Lauren Grace Bushnell. |
| Occupation | Flight Attendant, Television Personality, Social Media Influence, Reality TV Star, and Entrepreneur. |
| AgeAge (as of 2022) | 32 Years Old |
| Birthdate | 2 February 1990 (Friday). |
| Birthplace | Portland, Oregon, United States. |
| Nationality | American. |
| Religion | Christian. |
| Husband | Chris Lane. |